St. Benedict Church
A gem of the early Medieval period
The church of St. Benedict in Malles/Mals in the Vinschgau valley is one of the most interesting churches in the Alpine region due to the significance of its architectural history from the second half of the 8th century. From this mysterious epoch between Late Antiquity and the Middle Ages, there are few witnesses still set in stone. The church on the outskirts of Malles with its seven towers also houses rare frescoes from the time of Charlemagne.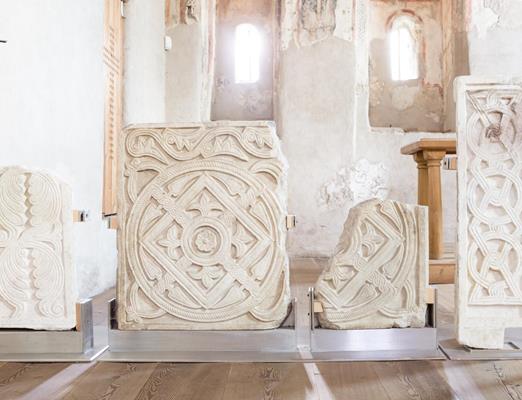 "Wealth and power are but gifts of blind luck, goodness comes from one's own merits."
Peter Abaelardus (1079 - 1142)
Until the 12th century, St. Benedict, as an independent church, was under the command of the Bishop of Chur. The aisleless church was later covered and an independent Romanesque church tower was added. Itwas not until the 20th century that the extraordinary art-historical value of this pre-Carolingian gem was recognised and made accessible to the public. It seems almost miraculous that the church has survived until today because over the centuries it has been affected by a mudslide several times.
The round arch doors and windows are characteristic of the St. Benedict church. In the interior of the church behind the round arched windows, there are three altar niches and two pre-Romanesque pictures of the founders. These frescoes, dating from around 800, are amongst the few remaining examples of Carolingian mural painting.
The Frankish landlord
The frescoes in St. Benedict cover the entire altar wall. On the partitions between the niches, there are two pictures of the founders: A clergyman carrying a model of a aisleless church and a noble estate owner with a sword. This Carolingian mural painting is the only known representation of a Frankish estate owner of that era and therefore contains interesting details about clothes and customs of that time. Other frescoes show scenes from the life of Pope Gregory the Great and the historian St. Paul.
Summer opening times: April 6 - October 31
visit: July 1 - October 31
Winter opening times: November 9 - February 29